Sortez vos (vieux) magazines de mode !
Get out your old magazines !
Mon armoire ne me plaisait plus mais elle était toujours nickel, alors j'ai eu une idée pour ne pas devoir la remplacer.
J'ai découpé des pubs de parfums, de sacs, chaussures, bijoux etc que je trouvais jolies dans mes vieux magazines et les ai ensuite collées avec du double-face directement sur ma garde-robe.
Entre chaque feuille j'ai posé du scotch transparant brillant pour que le résultat soit plus uniforme.
J'y ai ajouté 2x6 miroirs carrés et voilà le résultat!
I didn't like my wardrobe anymore but it was in perfect state, then i had an idea.
I have cut fashion advertisement, i liked in my old magazines and i pasted them on my wardrobe. I have add 2x6 mirrors and this is the result.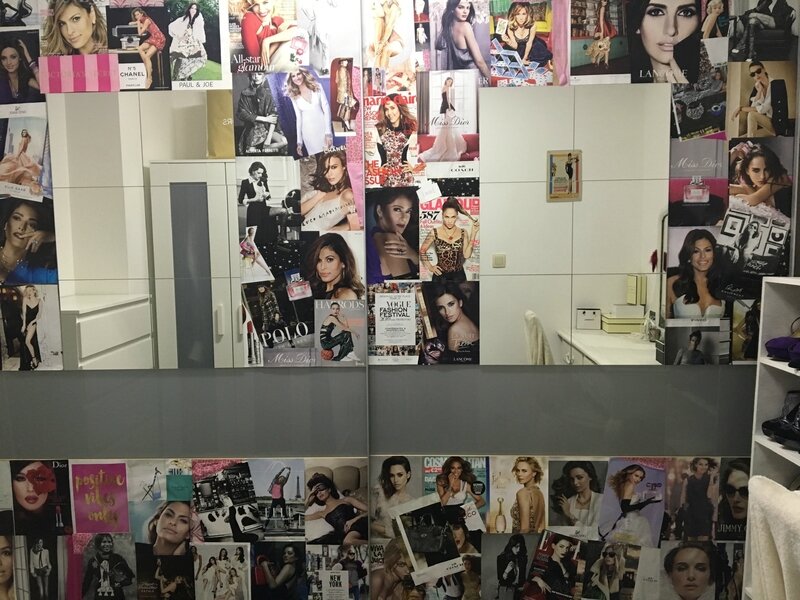 En quelques soirées seulement, mon dressing a pris des couleurs et moi des idées de tenues :)
Alors vous vous y mettez quand?
In only a few days my wardrobe had take colors and me look ideas.
And you ?